Hello, my name is Aditya Shankar. I'm an aspiring producer and rapper from River Hill High School. I'm really hoping to learn more about different ways to create music online. I'm currently learning to use both FL Studio 20(with Nexus), Ableton Live 9, And MixCraft 7. Although I've learned a lot, I still feel there's more that I'm missing when it comes to music.


That's the beauty of music tech. No matter how much music you've learned, you still don't know everything that there is to it.
Powered by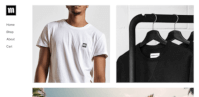 Create your own unique website with customizable templates.